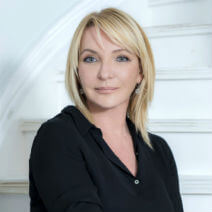 Jane Katkova-Brown
Principal Counsel / Founder, M.A., a Member of ICCRC, #R412959 (Immigration Consultants of Canada Regulatory Council)
An immigrant from Latvia Jane fell in love with Canada, which she sincerely believes is a place of abundant opportunities for those who are ready to build themselves up in a new country.
For Jane, the most important qualities in people are intelligence, kindness and honesty. Jane is a go-getter, who can not be stopped in her pursuit, of any nature.
Jane's strongest professional skills are the skills of advocacy, wit, mastery in negotiation, analytical and logical reasoning, persuasiveness, meticulous attention to detail.
A true believer in a continuous pursuit of personal growth and importance of mentorship, Jane founded Lioness Women's Club, a social hub for women aspiring for sharing success, philanthropy and social connections. In the spirit of philanthropy, the members of the Club have raised tens of thousands of dollars for charitable causes.
Jane loves art, good humor and fashion. She frequents classical music concerts and museums. Her favorite place in Canada is nature. Regardless of season. She loves to get lost in its beauty.
Jane's next biggest goal is to master swimming and riding a bike. We will let you know when this happens.
Jane's biggest passion are her daughter Dana and son Sol. Jane's role model is her mother, who was a talented medical doctor in Latvia and helped thousands of her patients.
As a professional, Jane is honest, knowledgeable, meticulous and creative, committed to excellence and putting her 20+ years expertise to the advantage of her clients.
A workaholic, Jane can work days and nights on a client's case until she feels that it's perfected.
Jane started offering immigration services since 1995 when she established the firm. Jane is dedicated to creating a special environment for her clients and the team. She succeeded in her aspirations. Her clients send their family members and friends, come back with new matters and become good friends.
Could be Jane is just an awesome professional…